Une chaîne Legend of Zelda sur Switch
Ecrit par Ariane le 12.08.2017

Le 8 août, une mise à jour de The Legend of Zelda: Breath of the Wild a été publiée. Comme les précédentes, elle corrige quelques petits bugs, mais elle permet aussi de bénéficier dès le lendemain de petits bonus via la nouvelle chaîne The Legend of Zelda: Breath of the Wild. Cette chaîne est accessible via l'îcone "Nouvelles" sur l'écran d'accueil, puis en appuyant sur +. Il suffit ensuite de s'y abonner pour accéder au contenu des "Rumeurs des Landes", sous-titre de cette chaîne.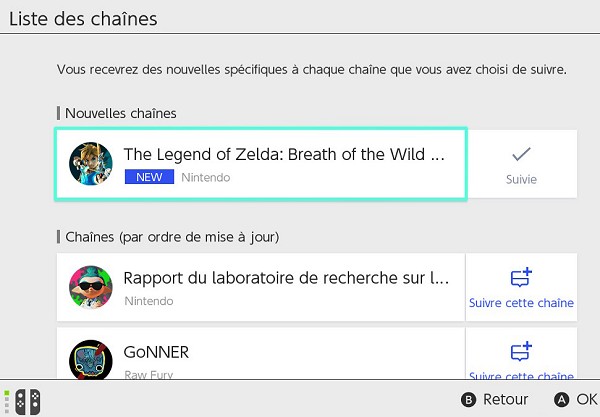 Et donc le lendemain, un premier "bonus" était disponible. L'article nous parle des chiens des relais qui peuvent se prendre d'affection pour nous si on leur donne des fruits ou de la viande. (Astuce pas vraiment nouvelle et mentionnée dans Encore plus de Trucs et Astuces.) Ensuite, il faut démarrer Breath of the Wild à partir de cet article, pour trouver des fruits et de la viande à nos pieds en continuant notre partie.
EDIT 23.08 : La 2ème news nous donne la recette des "bonbons au miel" qui permet, grâce à un seul ingrédient, de remplir une partie de notre jauge d'endurance.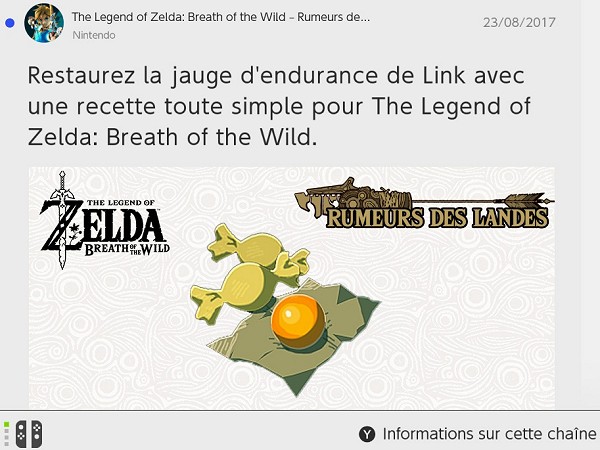 Voilà pour le principe. Sans doute que les prochains bonus seront plus intéressants, voire peut-être nous donneront des items inédits ! Let's wait and see...

Merci à Ptibou !