A Link to the Past / Four Swords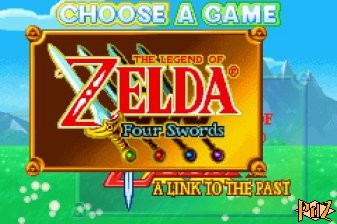 Ce n'est pas un jeu, mais deux jeux sur la même cartouche que nous propose Nintendo pour la GameBoy Advance.
Le premier est A Link to the Past, une version très semblable à celle sortie sur SuperNes en 1992, mais avec tout de même quelques changements/ajouts et un palais supplémentaire.
Le second est Four Swords, un jeu inédit auquel peuvent participer de 2 jusqu'à 4 joueurs !
Ces nouvelles aventures sont sorties fin 2002 aux Etats-Unis/Canada et le 28 mars 2003 en Europe.