Mini-guide Breath of the Wild sur My Nintendo
Ecrit par Luyan le 18.03.2017

Pour fêter la sortie de The Legend of Zelda : Breath of the Wild, un mini-guide du jeu est actuellement disponible à l'achat sur MyNintendo au prix de 10 Points Or. Ce mini-guide vous permettra de débuter le jeu dans les meilleures conditions afin de s'orienter au mieux dans l'immensité d'Hyrule, où encore ce qu'il faut faire afin d'avoir toujours le dessus sur vos adversaires.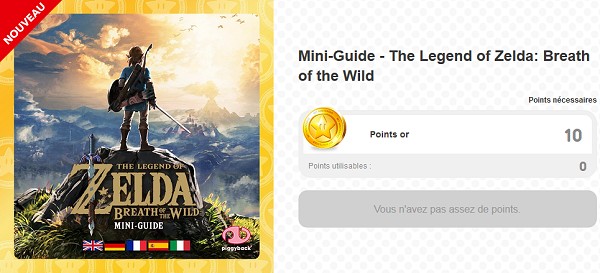 Voici le résumé que l'on peut lire sur le site MyNintendo :
"Grâce à ce kit de survie en 24 pages, vous acquerrez les bases nécessaires pour commencer votre aventure sous les meilleurs auspices : comment s'orienter au mieux dans le monde d'Hyrule, comprendre l'influence de la météo et des éléments sur le jeu, mais aussi comment garder le dessus lors des combats.

Le kit vous offre également une présentation des commandes de jeu (aussi bien sur Wii U que sur Nintendo Switch).
Ce mini-guide est extrait du guide officiel complet publié par Piggyback.
Disponible en anglais, français, allemand, espagnol et italien jusqu'au 1er octobre 2017."
Evidemment le Palais de Zelda est également là pour vous proposer une solution (en cours), ainsi que des trucs et astuces ;-)

Source : MyNintendo.com