The Legend of Zelda: Twilight Princess sur Wii
Ecrit par Escafleiko le 14.06.2006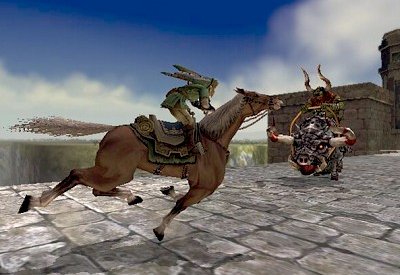 Nintendo a encore frappé un grand coup lors de cet E3 2006 (Electronic Entertainment Expo 2006). En effet, cela faisait quelques mois que nous pouvions entendre des rumeurs au sujet de The Legend Of Zelda : Twilight Princess. Ces rumeurs annonçaient l'arrêt du développement de la version GameCube pour porter le jeu sur Wii. Ne vous inquiétez pas, le titre est toujours annoncé en 2006 sur GameCube.
Cependant quelle a été notre surprise, malgré les démentis de Nintendo, de découvrir, lors de cet E3 2006, le jeu tournant sur Wii.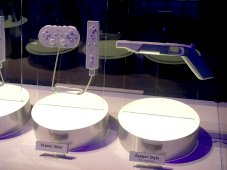 Graphiquement les deux versions se valent (la version Wii est un peu plus fine que la GameCube), mais c'est sur le plan de la maniabilité que le titre se démarque de son frère aîné. La Wiimote, télécommande de la Wii servant de manette, est équipée de deux capteurs de mouvement permettant d'utiliser la manette comme une épée et réellement trancher dans le vif, s'en servir comme un arc, l'utiliser comme boomerang ou même pêcher.
Navi (la fée d'Ocarina of Time) est de retour. Elle nous sert de viseur pour prendre des objets...
Ecrit de cette manière, vous êtes en droit de vous demander si le jeu est jouable. D'après Tommy de Game One, on prend le coup dès la cinquième minute de jeu.
Même si cela fait trois ans que nous attendons la version GameCube, aujourd'hui les regards se tournent, désormais, sur la version Wii qui devrait, normalement, sortir en 2007.

(Image de la version Game Cube)